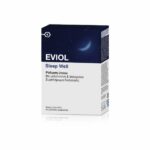 Eviol Sleep Well Dietary Supplement for Sleep Regulation 30 Capsules
Sale!
Eviol Sleep Well Dietary Supplement for Sleep Regulation 30 Capsules
Με Φ.Π.Α
-36%
| | |
| --- | --- |
| Weight | 0,10 kg |
| Κατασκευαστής | |
| MPN | 5213004240111 |
Available from 1 to 3 days
3 in stock
The food supplement EVIOL Sleep Well is a unique composition of valerian, together with melatonin which contributes to the regulation of sleep.
Melatonin contributes to:
In the reduction of the time one needs to sleep. In the relief from the subjective feeling of the time lag of the biological clock (jet lag).
Melatonin is produced in the human body by the pineal gland during the night and helps regulate the sleep-wake cycle. It is involved in maintaining the normal circadian rhythm (the body's biological clock) which plays a key role in normal sleep.
Valerian is a traditional plant widely used to relieve stress and sleep disorders.
Each soft capsule contains 1mg of melatonin, an amount based on scientific data and approved by the European Food Safety Authority (EFSA) as helping to reduce the time it takes to fall asleep.
Ideal in cases:
disturbed sleep insomnia work alternating shifts traveling to distant destinations (jet lag)
Does not contain gluten.
Dosage:
Adults over 18 years: 1 capsule a day after the evening meal before bedtime.
Important:
People with sensitivity to any of the ingredients of Nutritional Supplements should avoid their use.
Do not exceed the recommended daily dose. Nutritional Supplements should not be used as a substitute for a balanced diet. Keep away from small children. This product is not intended to prevent, treat or cure a human disease. Consult your doctor if you are pregnant, breastfeeding, on medication or have any health problems.