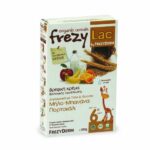 FREZYLAC Bio Cereal Cereals with Milk & Fruit (Apple-Banana-Orange), 200 gr
FREZYLAC Bio Cereal Cereals with Milk & Fruit (Apple-Banana-Orange), 200 gr
5,19 € Με Φ.Π.Α
| | |
| --- | --- |
| Weight | 0,30 kg |
| Κατασκευαστής | |
| MPN | 5202888105401 |
Available from 4 to 10 days
Organic cream for babies after 6 months, with Bifidus probiotics, cereals, apple, banana and organic orange and 34% organic milk. Meets the increased needs for protein, iron and energy and has a soft texture and perfect solubility. Enriched with all the necessary vitamins and minerals for the healthy development of the baby.
Organic Agriculture Product
Contains gluten
It does not contain preservatives, dyes, synthetics or improvers
It is a complete meal
It is prepared with water
Method of preparation:
Boil fresh clean water for 5 minutes & let it become lukewarm (about 50 C).
Measure and pour the required amount of boiled water into the baby's dish.
Add about 5 tablespoons of Farin Lacte Cereal Cream Powder with Milk.
Mix well until it becomes a homogeneous mixture with a soft texture and feed with a clean spoon.
Do not add milk, it is contained in the cream.
TIPS FOR PARENTS – IMPORTANT INFORMATION
– Always prepare fresh cream before each meal.
– Wash your hands thoroughly and make sure everything
utensils used are clean.
– Always follow the dosage and preparation instructions.
– Do not store leftover cream for the next meal.
– Always feed the baby with the spoon.
– Immediately close the package tightly and store in
cool, dry and clean place.
– Do not empty the powder into other utensils to store it.
– Do not heat the cream in the microwave.