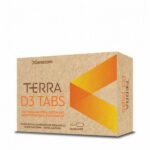 Genecom Terra D3 1.200IU Tabs 60 Tabs
Sale!
Genecom Terra D3 1.200IU Tabs 60 Tabs
Με Φ.Π.Α
-23%
| | |
| --- | --- |
| Weight | 0,10 kg |
| Κατασκευαστής | |
| MPN | 5214000633082 |
Available from 1 to 3 days
7 in stock
Vitamin D3 is produced in the skin by the effect of ultraviolet radiation (UVB 290-315nm). Its production in the skin accounts for about 80% of the total daily production, while the remaining 20% ​​comes from food.
The production of vitamin D in the skin is affected by many factors:
• Sun exposure
• The use of sunscreen (sunscreen with a protection index> 8 reduces the synthesis of vitamin D by up to 90%)
• Clothing (covered limbs)
• The amount of melanin (black race has lower levels of vitamin D)
• Season of the year (significant reduction of prices in the winter months)
• Latitude (increasing latitude, ie from the equator to the poles, limits the ability to synthesize vitamin D)
• Age (the elderly have reduced production capacity)
• Obesity (vitamin D is absorbed by adipose tissue)
• Atmospheric pollution (mainly in urban centers reduced UV radiation)
What causes Vitamin D deficiency?
Reduced intake of vitamin D leads to reduced absorption of calcium and phosphorus from the intestine which results in their reduced concentration in the body. In children it leads to rickets, while in adults it leads to muscle weakness, increased phosphorus excretion, tetany, osteomalacia and osteoporosis. In pregnant women and newborns it leads to injuries of the uterine pelvis during childbirth, deformities of the fetus, as well as weakness of the teeth of the fetus.
Rickets is a bone disease that leads to poor growth with weak bones, delayed growth and immunodeficiency.
Osteomalacia is a disease of adults due to a long-term deficiency of vitamin D. It is characterized by an increase in tumor and a decrease in bone plating. Osteomalacia leads to significant bone loss in the cortical tissue with an increased risk of falls and fractures. Clinical symptoms include muscle weakness, difficulty walking and osteopenia.
About 6% of men and over 20% of women over the age of 50 suffer from osteoporosis, while 1 in 5 men and 1 in 3 women will suffer an osteoporotic fracture after the age of 50. Also, 75% of women who have osteoporosis do not know it. Vitamin D deficiency can lead to newborns and young children for the rest of their lives at risk of developing Rheumatoid Arthritis, Diabetes, Parkinson's, Alzheimer's, Multiple Sclerosis & Inflammation of the intestine due to a malfunctioning immune system.
Also, people with low vitamin D levels can develop cancer of the pancreas, skin, endometrium, breast, prostate, rectum and intestine, or even lymphoma. In addition, low levels of vitamin D have been linked to risk factors for cardiovascular disease such as hypertension, myocardial infarction, stroke, heart failure, and diabetes.
Other effects of Vitamin D:
• Regulates the normal functioning of the immune system
• Regulates blood pressure (reduction of renin)
• Helps improve muscle function
• Effects on CNS function – positive effect in patients with multiple sclerosis
• Acts on intermediate metabolism – increases insulin secretion
Warnings:
– Keep out of the reach of small children.
– Do not exceed the recommended daily dose.
Dietary supplements should not be used as a substitute for a balanced diet.
– This product is not intended to prevent, treat or cure any human disease.
– Consult your doctor if you are pregnant, breast-feeding, undergoing treatment or have health problems.
Dietary supplement with vitamin D3 (cholecalciferol)
For good bone health and immune system
Contains: 60 tablets, 1,200 I.U / Tabs
GLUTEN FREE – LACTO FREE