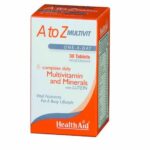 Health Aid A To Z Multivit Lutein 30 tablets
Sale!
Health Aid A To Z Multivit Lutein 30 tablets
Με Φ.Π.Α
| | |
| --- | --- |
| Weight | 0,20 kg |
| Κατασκευαστής | |
| MPN | 5019781014408 |
Available from 1 to 3 days
8 in stock (can be backordered)
Vitamins & Minerals & Lutein.
A complete combination of 25 nutrients, offered to all ages (teenagers – adults – elderly), all the necessary vitamins, minerals & trace elements that the body needs on a daily basis. In addition, it is fortified with Lutein (antioxidant) for further antioxidant protection, especially of the eyes, as well as to fight free radicals.
The ingredients of HealthAid's A to Z multivit are in ideal formula so that it does not burden the body, especially the stomach as they supplement any nutritional deficiencies. The daily ally of all ages, suitable even for long-term shooting. Its effervescent form (A to Z ACTIVE) does not contain iodine.
The notification number to the AEO does not constitute a marketing authorization of the AEO
Adults and children over 12 years, 1 tablet daily with food.

| | |
| --- | --- |
| Each tablet contains: | |
| Vitamin A (2667iu) | 800μg |
| Vitamin E (12iu) | 11mg |
| Vitamin D (200iu) | 5μg |
| Vitamin C | 68mg |
| Thiamin (Vitamin B1) | 1,8mg |
| Riboflavin (Vitamin B2) | 2,4mg |
| Niacin (Vitamin B3) | 22mg |
| Vitamin B6 (Pyridoxine HCl) | 3,7mg |
| Folic Acid | 400μg |
| Vitamin B12 | 2μg |
| Biotin | 170μg |
| Pantothenic acid (Vitamin B5) | 6,5mg |
| Vitamin K | 33μg |
| Calcium | 178mg |
| Iron | 20mg |
| Magnesium | 110mg |
| Zinc | 15mg |
| Iodine | 165μg |
| Copper | 0,8mg |
| Manganese | 2,75mg |
| Selenium | 28μg |
| Chromium | 30μg |
| Molybdenum | 25μg |
| Boron | 150μg |
| Lutein | 275μg |