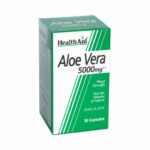 Health Aid Aloe Vera 5000mg 30 capsules
Sale!
Health Aid Aloe Vera 5000mg 30 capsules
Με Φ.Π.Α
| | |
| --- | --- |
| Weight | 0,25 kg |
| Κατασκευαστής | |
| MPN | 5019781024421 |
Available from 4 to 10 days
Aloe Vera 5000mg
Its name comes from the Arabic Alloeh = shiny bitter substance and the Latin Vera = true and has been used since 3,500 BC for its healing and cosmetic properties. There are many species of the genus Aloe but Aloe Barbadensis is the most important and studied. Contains over 200 active ingredients including vitamins (A, C, E, B12), minerals, amino acids, enzymes, mono- & poly-saccharides, tannins, sterols, organic acids and glycosides. It is a natural detoxifier of the digestive tract and helps in the absorption of proteins. It also helps protect the body from free radicals.
HealthAid Aloe Vera 5000mg contains concentrated Aloe Vera gel extract for maximum effect. Suitable in cases of digestive disorders and malabsorption. It can also be used externally, by piercing the capsule and spreading the contents on the skin area, massaging lightly, until it is absorbed.
Adults and children over 6 years, 1 capsule daily with food. Adults up to 2 capsules if required.