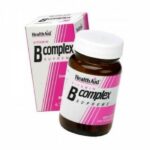 Health Aid B Complex Supreme 30 capsules
Sale!
Health Aid B Complex Supreme 30 capsules
Με Φ.Π.Α
| | |
| --- | --- |
| Weight | 0,25 kg |
| Κατασκευαστής | |
| MPN | 5019781010011 |
Available from 4 to 10 days
B Vitamin Complex.
B-complex vitamins are the key to normal metabolism. They help maintain the health of the nervous system & psychological function, promote the health of the skin, hair and nails and contribute to the normal functioning of metabolic processes aimed at producing energy, to reduce fatigue. Although they can be taken individually, the way they work in the body is commonly linked (eg B12 is a prerequisite for the action of folic acid on red blood cell production). For this reason, it is considered more complete to take the whole complex to meet daily needs.
HealthAid B-Complex Supreme delivers a steady dose of all B-complex vitamins, well-balanced, in an immediate-release capsule and easy to swallow.
Adults and children over 12 years, 1 capsule daily.
| | |
| --- | --- |
| Each capsule contains: | |
| Thiamin (Vitamin B1) | 10mg |
| Riboflavin (Vitamin B2) | 10mg |
| Niacin (Vitamin B3) | 10mg |
| Vitamin B6 (Pyridoxine) | 10mg |
| Folic Acid | 100μg |
| Vitamin B12 | 10μg |
| Biotin | 10μg |
| Pantothenic acid | 10mg |
| Choline | 10mg |
| Inositol | 10mg |
| PABA | 10mg |