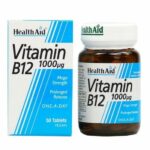 Health Aid B12 1000mg 50 tablets
Sale!
Health Aid B12 1000mg 50 tablets
Με Φ.Π.Α
| | |
| --- | --- |
| Weight | 0,25 kg |
| Κατασκευαστής | |
| MPN | 5019781010608 |
Available from 4 to 10 days
Cyanocobalamin 1000mg.
It is the most important element for the health and renewal of the blood and consequently the energy levels of the organism, as it is a prerequisite for the action of folic acid in the production of DNA and red blood cells. Helps maintain the function of the nervous system, the proper management of fats, carbohydrates and proteins by the body and the normal metabolism of homocysteine ​​in the blood, to maintain heart health. Its deficiency causes megaloblastic anemia, chronic fatigue, insomnia, weight loss and anorexia. Vegetarians are deficient in B12 because it is found mainly in red meat and its derivatives (liver) and to a much lesser extent in the plant world, so taking it as a dietary supplement is recommended on a daily basis.
HealthAid Vitamin B12 in a slow-release tablet in the form of cyanocobalamin for better absorption and bioavailability, is ideal for vegetarians. Suitable for people with digestive disorders, the elderly and useful for the development of children, as well as in cases of vitamin malabsorption.
Children 3 – 12 years old, 1 tablet daily. Adults and children over 12 years, 1-2 tablets per day.