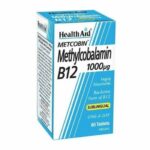 Health Aid B12 Methylcobalamin Metcobin 1000mg 60 tablets
Sale!
Health Aid B12 Methylcobalamin Metcobin 1000mg 60 tablets
Με Φ.Π.Α
| | |
| --- | --- |
| Weight | 0,25 kg |
| Κατασκευαστής | |
| MPN | 5019781054022 |
Available from 1 to 3 days
1 in stock (can be backordered)
Methylcobalamin 1000μg with faster absorption
Methylcobalamin is the active form of vitamin B12. It contributes to the production of red blood cells, to the increase of energy levels, to the healthy metabolism of fats, carbohydrates & proteins and to the normal functioning of the nervous & immune system, to the metabolism of homocysteine ​​for heart health and to the reduction of fatigue and fatigue.
HealthAid Metcobin B12 is in the form of a sublingual tablet. When dissolved under the tongue, it is better absorbed by the body, without losing part of it in the process of digestion, making it more bioavailable. It is suitable for vegetarians, who do not take it from the diet, for those who can not swallow tablets, for diabetics as it contains xylitol as a sweetener, friendly to the teeth, with a pleasant gooseberry flavor.
Children 3 – 12 years old, 1 tablet daily with breakfast. Adults and children over 12 years, 1-2 tablets per day.