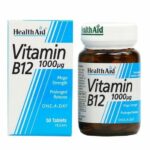 Health Aid B50 Complex 30 tablets
Sale!
Health Aid B50 Complex 30 tablets
Με Φ.Π.Α
| | |
| --- | --- |
| Weight | 0,25 kg |
| Κατασκευαστής | |
| MPN | 5019781010103 |
Available from 1 to 3 days
2 in stock (can be backordered)
Enhanced combination of B-complex vitamins.
High content complex of B vitamins along with iron and vitamin C for a healthy nervous system and high levels of metabolism & energy. They enhance all the metabolic functions of the body and the production of energy from food. They help break down simple carbohydrates into glucose, which is a source of energy for the brain and body. Also important for the healthy condition of the skin & hair.
HealthAid Vitamin B50 Complex is in slow-release tablets to steadily release nutrients throughout the day and minimize the loss of water-soluble vitamins. Suitable for those who have a sensitive stomach but also for people with demanding lifestyles, for those who follow hypocaloric diets but also for the elderly, in whom both the production and absorption of these vitamins has decreased due to age.
Adults and children over 12 years, 1 tablet daily.
| | |
| --- | --- |
| Each tablet contains: | |
| Vitamin C | 120mg |
| Thiamin (Vitamin B1) | 50mg |
| Riboflavin (Vitamin B2) | 50mg |
| Niacin (Vitamin B3) | 50mg |
| Vitamin B6 (Pyridoxine) | 50mg |
| Folic Acid | 50μg |
| Vitamin B12 | 10μg |
| Biotin | 50μg |
| Pantothenic acid | 50mg |
| Iron | 5mg |
| Choline | 50mg |
| Inositol | 50mg |
| PABA | 50mg |