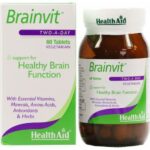 Health Aid Brainvit 60 tablets
Sale!
Health Aid Brainvit 60 tablets
Με Φ.Π.Α
-40%
| | |
| --- | --- |
| Weight | 0,25 kg |
| Κατασκευαστής | |
| MPN | 5019781015153 |
Available from 1 to 3 days
3 in stock
Vitamins, Minerals, Amino Acids, Antioxidants & Herbs
The function of memory is one of the most complex functions of the human brain and is not only the basis of our daily activity, but also the basic element of creating our personality. Vitamins C & E provide antioxidant protection and B-complex vitamins help maintain psychological function and nervous system health. Ginkgo Biloba has been widely studied for its antioxidant properties in protecting blood vessels and thanks to the flavonoids it contains, in supporting the circulatory system. The concomitant presence of substances such as Phosphatidylserine, A-lipoic acid, CoQ10 & amino acids, represent a highly effective nutritional support, as it nourishes brain cells, while offering antioxidant protection against free radicals, since phospholipids are strongly absorbable even by the brain barrier.
HealthAid Brainvit * is a unique formula that dynamically supports all 4 axes of brain functions (Memory-Concentration-Thought-Clarity). Suitable for active adults and middle-aged people who need on a daily basis mental clarity, self-concentration and support. Also for pupils and students, before and during the exam period, which requires their maximum performance.
* The creation & production of compositions (formulas), is a special know-how and a trademark of the company HealthAid.
The notification number to the AEO does not constitute a marketing authorization of the AEO
Adults and children over 16 years, 2 tablets daily after meals.
Each tablet contains:

Natural mixed carotenoids

17mg

Vitamin E (50iu)

33,5mg

Vitamin C

30mg

Thiamin (Vitamin B1)

7,5mg

Riboflavin (Vitamin B2)

1,6mg

Niacin (Vitamin B3)

18mg

Folic Acid

200μg

Vitamin B12

25μg

Pantothenic acid (Vitamin B5)

6mg

Iron

7mg

Zinc

7mg

Selenium

100μg

L-Arginine

25mg

L-Methionine

25mg

L-Phenylalanine

25mg

L-Tyrosine

25mg

L-Glutamine

10mg

L-Glutathione

10mg

Acetyl-L-Carnitine

10mg

Alpha lipoic acid

25mg

Phosphatidyl Choline

12,5mg

Phosphatidyl Serine

12,5mg

CoQ10

10mg

Ginkgo biloba extract (50:1)




(Equivalent to 1500mg powder)




[standardised to min 24% ginkgoflavonglycosides & 6% triterpene lactones]

30mg

Gotu kola extract (4:1)




(equivalent to 60mg of gotu kola powder)

15mg

Brahmi extract (60:1)




(equivalent to 1500mg powder)

75mg