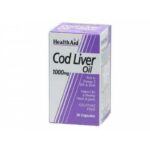 Health Aid Cod Liver Oil 1000mg 30 capsules
Sale!
Health Aid Cod Liver Oil 1000mg 30 capsules
Με Φ.Π.Α
-44%
| | |
| --- | --- |
| Weight | 0,30 kg |
| Κατασκευαστής | |
| MPN | 5019781000494 |
Available from 1 to 3 days
1 in stock
Cod liver oil 1000mg
Cod liver oil is the oil derived from cod liver and is rich in Omega 3 polyunsaturated fatty acids (EPA & DHA), which help maintain heart, brain and vision health. In addition, it contains sufficient amounts of vitamin A, which helps maintain the normal state of the mucous membranes, skin and supports eye and immune health, as well as Vitamin D which contributes to the normal absorption and use of calcium and phosphorus for normal calcium in the blood and in maintaining the normal condition of bones, muscles and teeth.
HealthAid Cod Liver Oil 1000mg is a cold pressed product, free of impurities & toxins. It is enriched with vitamin E to protect Omega 3 from oxidation, which are hermetically sealed in soft capsules, to maintain their freshness and purity.
The notification number to the AEO does not constitute a marketing authorization of the AEO
Adults & children over 6 years, 1 capsule daily.
| | |
| --- | --- |
| Each capsule contains: | |
| Cod liver oil | 1000mg |
| which provides: | |
| Total Omega3 | 220mg |
| EPA (Eicosapentaenoic acid) | 110mg |
| DHA (Docosahexaenoic acid) | 99mg |
| Vitamin A | 1502μg |
| Vitamin D | 10μg |
| Vitamin E | 6.7mg |