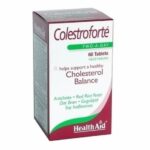 Health Aid Colestroforte 60 tablets
Sale!
Health Aid Colestroforte 60 tablets
Με Φ.Π.Α
-35%
| | |
| --- | --- |
| Weight | 0,35 kg |
| Κατασκευαστής | |
| MPN | 5019781014545 |
Available from 1 to 3 days
1 in stock (can be backordered)
Red Rice Yeast, Phytosterols, Oat Fiber, Herbs.
A specialized combination of 10 ingredients that act synergistically to maintain total cholesterol at healthy levels. Red Rice Yeast from the yeast monascus purpureus is rich in the plant statin monocolin K to maintain normal levels of "bad" LDL cholesterol. Soy Isoflavones along with Phytosterols and Oat Fiber interfere with lipid metabolism, while Artichoke Extract, Trigonella and Chromium naturally support the proper functioning of the liver, metabolism and glycemic index, as they are directly related to balancing lipid levels in the body.
HealthAid Colestroforte * is suitable for those who wish to maintain the normal functioning of the heart and circulatory system.
* The creation & production of compositions (formulas), is a special know-how and a trademark of the company HealthAid.
The notification number to the AEO does not constitute a marketing authorization of the AEO
Adults, 2 tablets daily with food.
Each tablet contains:

Pantethine

50mg

Chromium

100μg

L-Taurine

50mg

Inositol

125mg

Red Rice Yeast

200mg

Gugulipid Extract** (3:1)
(equivalent to 300mg of Gugulipid powder)
[**standardised to minimum 5-10% guggulsterones]

100mg

Fenugreek Powder

100mg

Soy Isoflavone

100mg

Artichoke Extract (3:1) (equivalent to 150mg of Artichoke powder)

50mg

Oat Bran

10mg