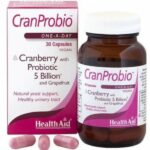 Health Aid CranProbio 30 capsules
Sale!
Health Aid CranProbio 30 capsules
Με Φ.Π.Α
-35%
| | |
| --- | --- |
| Weight | 0,25 kg |
| Κατασκευαστής | |
| MPN | 5019781026074 |
Available from 4 to 10 days
Probiotics 5 billion, with Cranberry & Grapefruit
As in the intestine, so in the mucosa of the vagina, pathogenic bacteria (such as E.coli) are often attached, resulting in vaginal infections, such as fungal infections, urinary tract infections, cystitis, etc. This attachment can be caused by many factors, such as poor hygiene, sexually transmitted conditions, use of various medications, menopause and especially during the summer months. Research has shown that probiotics, as friendly bacteria, fight pathogens that cause urinary tract infections. In addition, they prevent flora, capable of protecting against recurrent infections. Cranberry and Grapefruit are fruits, known for their positive effects on urinary health. Rich in vitamin C and proanthocyanidins, they create an acidic inhospitable environment for pathogenic bacteria, preventing them from attaching to the bladder walls.
HealthAid CranProbio is a unique combination of 3 types of probiotic strains (Lactobacillus Acidophilus, Bifidobacterium Lactis, Bifidobacterium Bifidum), in a amount of 5 billion / capsule, together with Cranberry and Grapefruit.
The notification number to the AEO does not constitute a marketing authorization of the AEO
Adults and children over 12 years, 1 capsule daily on an empty stomach. After opening, store in the refrigerator.
Each capsule contains:

Probiotic Blend: Lactobacillus Acidophilus, Bifidobacterium
Lactis & Bifidobacterium Bifidum
5billion
Cranberry powder
500mg
Grapefruit Powder
250mg