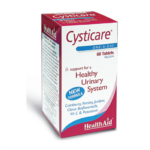 Health Aid Cysticare 60 tablets
Sale!
Health Aid Cysticare 60 tablets
Με Φ.Π.Α
-35%
| | |
| --- | --- |
| Weight | 0,00 kg |
| Κατασκευαστής | |
| MPN | 5019781016778 |
Available from 4 to 10 days
Vitamin C & Plant extracts for the urinary tract
Cystitis is the most common form of urinary tract infection, affecting a large percentage of women at least once in their lifetime. Infection does not only require the presence of the germ (eg E.coli), which is naturally found in the large intestine, but also its infectious disposition to penetrate and attach to the bladder. Protective mechanisms are very good urination and acidic microenvironment, which will prevent adhesion, but also possible recurrence. Juniper berry extract from a species of wild cypress (Juniperus Communis), is rich in volatile oils, which cause an increase in urine. Parsley extract (Parsley), rich in the flavonoids apigenin & luteonin, for the elimination of toxins and germs. Cranberry is a fruit rich in anthocyanins and creates an acidic & inhospitable environment for bacteria, preventing the adhesion of germs to the walls of the bladder. Citrus Bioflavonoids and Vitamin C provide additional antioxidant protection, increasing the body's defense against microbial agents.
HealthAid Cysticare * is a special combination of plant extracts, suitable for the female urinary system but also for people who are prone to recurrent infections.
* The creation & production of compositions (formulas), is a special know-how and a trademark of the company HealthAid.
The notification number to the AEO does not constitute a marketing authorization of the AEO
Adults and children over 12 years, 1 tablet daily with food. It can be increased to 2 tablets if needed.
Each tablet contains:

Vitamin C
160mg
Potassium
300mg
Citrus Bioflavonoids
100mg
Cranberry Extract (25:1)
(equivalent to 1000mg of Cranberry powder)
40mg
Parsley Leaf Extract (4:1)
(equivalent to 800mg Parsley powder)
200mg
Juniper Berry Extract (4:1)
(equivalent to 800mg of Juniper powder)
200mg