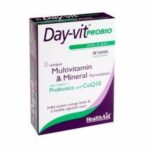 Health Aid Day-Vit Probio Probiotics CoQ10 30 tablets
Sale!
Health Aid Day-Vit Probio Probiotics CoQ10 30 tablets
Με Φ.Π.Α
-35%
| | |
| --- | --- |
| Weight | 0,10 kg |
| Κατασκευαστής | |
| MPN | 5019781014439 |
Available from 1 to 3 days
2 in stock (can be backordered)
Vitamins & Minerals with Probiotics & Coenzyme Q10.
A complete combination of vitamins, minerals, amino acids, digestive enzymes, CoQ10 & 2 billion probiotics, which provides the body with energy and at the same time contributes to the proper functioning of digestion, intestines and the immune system. The addition to the composition of 2 billion probiotics (4 different strains), helps balance the intestinal flora, which is necessary for the assimilation of nutrients from food and prevents the growth of pathogenic bacteria, while digestive enzymes (apple pectin, bapamein) make Day-vit Probio the most digestible multivitamin, without burdening the stomach at all. Suitable for those who show reduced absorption of nutrients that may be due to age, diet or chronic medication, for those who have a hypersensitive gastrointestinal tract.
No. Γνωστ.ΕΟΦ: 21731 / 29-03-07
The notification number to the AEO does not constitute a marketing authorization of the AEO
Adults and children over 12 years, 1 tablet daily with food.