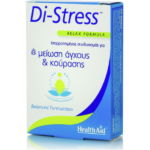 Health Aid Di Stress 30 tablets
Sale!
Health Aid Di Stress 30 tablets
Με Φ.Π.Α
-38%
| | |
| --- | --- |
| Weight | 0,00 kg |
| Κατασκευαστής | |
| MPN | 5019781012770 |
Available from 4 to 10 days
For daily stress
Within seconds of starting a stressful event, the body tries to deal with it, releasing substances from the brain, which stimulate the production of cortisol by the adrenal glands, thus completing the stress response. The main micronutrients that help reduce stress and maintain healthy neurological function, are the B-complex vitamins. According to analyzes, most of these vitamins are either adrenal protective and reduce the stress associated with the cortisol response. or are cofactors for the synthesis of GABA, serotonin and dopamine. More specifically, Folic acid regenerates substances necessary for the formation of neurotransmitters and works with Vitamin B12 to produce red blood cells, which will carry iron to treat fatigue.
HealthAid Di-Stress * is a balanced blend of B vitamins, vitamin C, choline, inositol and iron, in slow-release tablets, for ongoing support. Suitable for mental and physical stress, for those who feel tired and think that they can not meet intense rhythms and obligations. It does not cause drowsiness.
* The creation & production of compositions (formulas), is a special know-how and a trademark of the company HealthAid.
The notification number to the AEO does not constitute a marketing authorization of the AEO
Adults and children over 12 years, 1 tablet daily.
Each tablet contains:

Vitamin C
120mg
Thiamin (Vitamin B1)
50mg
Riboflavin (Vitamin B2)
50mg
Niacin (Vitamin B3)
50mg
Vitamin B6 (Pyridoxine)
50mg
Folic Acid
50μg
Vitamin B12
10μg
Biotin
50μg
Pantothenic acid
50mg
Iron
5mg
Choline Bitartrate
50mg
Inositol
50mg
PABA
50mg