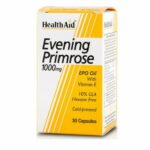 Health Aid Evening Primrose Oil 1000mg 30 capsules
Sale!
Health Aid Evening Primrose Oil 1000mg 30 capsules
Με Φ.Π.Α
-35%
| | |
| --- | --- |
| Weight | 0,00 kg |
| Κατασκευαστής | |
| MPN | 5019781013203 |
Available from 4 to 10 days
Evening primrose oil 1000mg
Evening primrose is a rich source of polyunsaturated fatty acids, mainly GLA (Gamma Linoleic Acid), whose role has been found to be related to the production of local hormones, known as prostaglandins. Evening primrose oil has been used successfully in women with Premenstrual Syndrome (PMS), as the biological action of prostaglandins is associated with a reduction in pre- and post-menopausal symptoms. Additional research has shown that evening primrose oil can help with menstrual cramps (dysmenorrhea).
HealthAid Evening Primrose Oil is a product of cold pressure, for maximum purity, rich in many beneficial fatty acids, including GLA. The presence of vitamin E acts as an antioxidant for cell and skin health. Suitable for those who have very dry skin, as well as in cases of eczema and psoriasis, as well as in cases of dysmenorrhea (pain, mood swings, period acne, etc.).
The notification number to the AEO does not constitute a marketing authorization of the AEO
Adults and children over 6 years, 1 capsule daily. Adults up to 4 capsules daily if required. Children can swallow the contents (capsule piercing) or spread it on the skin.