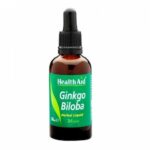 Health Aid Ginkgo Biloba 5000mg 50ml in drops
Sale!
Health Aid Ginkgo Biloba 5000mg 50ml in drops
Με Φ.Π.Α
-27%
| | |
| --- | --- |
| Weight | 0,20 kg |
| Κατασκευαστής | |
| MPN | 5019781030330 |
Available from 4 to 10 days
Ginkgo Biloba in drops
A healthy circulation is important for the good health of the body, as it transports oxygen and other vital components, nourishing the cells, the brain and its functions (memory, concentration). Over time, however, it works more slowly, resulting in reduced peripheral circulation, icy upper and lower extremities, leg pain and, above all, reduced brain function. Gingko Biloba is one of the oldest tree species on earth. For centuries it has been used as a natural antioxidant and circulatory tonic and for smooth blood flow throughout the body. Its active ingredients that are responsible for these properties are flavonoglycosides and terpene lactones.
HealthAid GinkoBiloba is made from titrated Gingo Biloba leaf extract from organic crops, perfectly pure, with a high content of flavonoglycosides (24%) and terpene lactones (6%), for maximum results.
The notification number to the AEO does not constitute a marketing authorization of the AEO
LIQUID: Shake well before use and put 20-30 drops (about 1ml) in a small amount of warm water and leave for 2 to 3 minutes, for the alcohol to evaporate. It is taken 2-3 times a day.