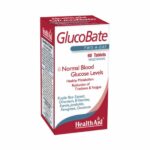 Health Aid Glucobate 60 tablets
Sale!
Health Aid Glucobate 60 tablets
Με Φ.Π.Α
-35%
| | |
| --- | --- |
| Weight | 0,30 kg |
| Κατασκευαστής | |
| MPN | 5019781013579 |
Available from 4 to 10 days
Glucose balance & energy increase
Vitamins, Minerals, Cinnamon & plant extracts.
A unique combination of 16 active ingredients that contribute to normal blood glucose, metabolism and energy levels. Chromium is a trace element vital to health, whose biological role is to regulate the glycemic index and consequently the metabolic syndrome. Vitamin B6 promotes healthy glycogen metabolism by regulating the release of stored glucose. Biotin and Zinc are involved in the healthy metabolism of carbohydrates and their utilization by the body. The plant extracts of Cinnamon, Trigonella, Purple Rice, Karela, Jambolan & Banaba are known for their traditional properties in regulating glucose levels. Banaba leaf (Lagestroemia Speciosa L.) in particular is rich in corosolic acid (CRA), which research has shown to inhibit gluconeogenesis and stimulate glycolysis.
HealthAid GlucoBate is a combination * suitable for those who have a strong craving for sweets & carbohydrates and for those who want to regulate their metabolism and energy levels.
* The creation & production of compositions (formulas), is a special know-how and a trademark of the company HealthAid.
Adults and over 16 years 2 tablets daily with food.
Each tablet contains:

Vitamin D3(200iu)

5μg

Vitamin C

60mg

Niacin (vitamin B3)

8mg

Vitamin B6

5mg

Folic Acid

200μg

Vitamin B12

250μg

Biotin

100μg

Zinc

7.5mg

Chromium

100μg

Alpha Lipoic Acid

75mg

Purple Rice Extract PE

200mg

Fenugreek Seed Powder Extract

100mg

Karela Fruit Extract PE

100mg

Jambolan Seed Extract

125mg

Cinnamon Bark Extract PE

250mg

Banaba Extract

(standardized to contain min 1% corosolic acid)

20mg