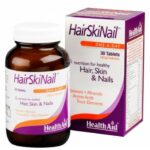 HEALTH AID Hair, Skin, Nail Formula 30 tablets
Sale!
HEALTH AID Hair, Skin, Nail Formula 30 tablets
Με Φ.Π.Α
-35%
| | |
| --- | --- |
| Weight | 0,30 kg |
| Κατασκευαστής | |
| MPN | 5019781015061 |
Available from 4 to 10 days
Special combination for Hair-Nails-Skin
Outward beauty is the result of a proper and balanced diet. But there are some conditions that can affect it, such as a weight loss diet, pregnancy, severe stress conditions accompanied by poor diet, and even hormonal disorders that can reduce the absorption of nutrients or age. The result is the appearance of hair loss, easy breaking of nails, as well as dull and damaged skin. B-Complex Vitamins help maintain healthy hair, nails and skin. Selenium, Vitamins C & E and the amino acids Methionine and Cysteine ​​offer antioxidant protection against free radicals that cause cell aging. Minerals such as Calcium, Iron, Magnesium, are essential metabolic components of tissues, while Zinc regulates the function of the glands and participates in the production of collagen.
HealthAid HairSkiNail * is a special combination of 20 active ingredients, in high proportions, suitable to nourish the tissues of hair, nails and skin, whenever the body needs them and to create beauty and health conditions "from within".
* The creation & production of compositions (formulas), is a special know-how and a trademark of the company HealthAid.
The notification number to the AEO does not constitute a marketing authorization of the AEO
Adults and children over 12 years, 1 tablet daily.
Each tablet contains:

Vitamin E (19iu)
13mgΤΕ
Vitamin C
60mg
Thiamin (Vitamin B1)
12mg
Riboflavin (Vitamin B2)
12mg
Niacin (Vitamin B3)
18mg
Vitamin B6 (Pyridoxine HCl)
20mg
Folic Acid
400μg
Vitamin B12
4μg
Biotin
150μg
Pantothenic acid (Vitamin B5)
18mg
Calcium
200mg
Iron
18mg
Magnesium
70mg
Zinc
20mg
Selenium
20μg
Choline
100mg
Inositol
100mg
PABA
100mg
L-Methionine
60mg
L-Cysteine
60mg