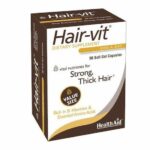 HEALTH AID Hair-Vit 90 capsules
Sale!
HEALTH AID Hair-Vit 90 capsules
Με Φ.Π.Α
-30%
| | |
| --- | --- |
| Weight | 0,35 kg |
| Κατασκευαστής | |
| MPN | 5019781000784 |
Available from 4 to 10 days
Vitamins, Minerals, Trace Elements & Amino Acids for Hair
During our life, on a daily basis, a sufficient number of hairs are lost. This is normal in order for the pockets to renew and new ones to emerge. Many times, however, for various reasons, this happens to an excessive degree and without the renewal of the pocket, with a permanent result and in the worst case alopecia. B-complex vitamins help maintain healthy hair against hair loss and especially graying (PABA, Pantothenic acid). Zinc and Iron support the hair follicle supply and hair growth cycle. The amino acids Methionine and Cysteine ​​are components of hair keratin and offer antioxidant protection. Hydrolyzed Gelatin is a peptide mixture of 18 amino acids "hair collagen", with which it nourishes the hair follicle and the hair itself, contributing to its permanent care.

HealthAid Hair-vit * is a unique combination of 17 active ingredients, to maintain the health and beauty of hair from root to tip. Suitable in cases of seasonal hair loss and periods of intense stress, for women & men. It is also useful for dull, brittle hair, damaged by dyes, continuous shampoos and hairstyles, as it is an internal "mask of beauty and shine" for the hair.
* The creation & production of compositions (formulas), is a special know-how and a trademark of the company HealthAid.
The notification number to the AEO does not constitute a marketing authorization of the AEO

Adults and children over 12 years, 1 capsule daily with breakfast.

Each capsule contains:

Thiamin (Vitamin B1)

10mg

Riboflavin (Vitamin B2)

10mg

Niacin (Vitamin B3)

20mg

Vitamin B6 (Pyridoxine HCl)

5mg

Vitamin B12

2μg

Biotin

20μg

Pantothenic acid

10mg

Iron

12mg

Zinc

2mg

Choline Bitartrate

50mg

Inositol

50mg

PABA

10mg

Yeast

100mg

Hydrolysed Gelatine Powder

50mg

Lecithin

20mg

L-Cysteine Hydrochloride

30mg

DL-Methionine

30mg