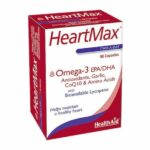 Health Aid Heartmax 60 capsules
Sale!
Health Aid Heartmax 60 capsules
Με Φ.Π.Α
-35%
| | |
| --- | --- |
| Weight | 0,20 kg |
| Κατασκευαστής | |
| MPN | 5019781010950 |
Available from 4 to 10 days
Ω3, Antioxidants, Amino Acids, Lecithin, Garlic Oil, Lycopene
The heart is a muscle that supplies blood to the whole body through blood vessels. Therefore, its healthy function is inextricably linked to the proper functioning and permeability of blood vessels. Ω3 (EPA / DHA) fatty acids from fish oils help maintain normal heart function and research has shown the synergy that develops when taken concomitantly with coenzyme Q10 for cellular energy production and the amino acid carnitine, whose biological role is of fatty acids in the mitochondria of muscle cells, including the myocardium. A-lipoic acid, grape peel extract, citrus bioflavonoids, lycopene are based on studies beneficial plant elements for the antioxidant protection of vascular cells and maintaining their elasticity. Garlic oil has traditionally known properties in controlling blood pressure and chromium contributes to normal lipid metabolism.
HealthAid HeartMax * is a combination of 11 nutrients, known for their beneficial properties for heart and circulatory health. Suitable for those who feel the first signs of heart fatigue and high blood pressure, middle-aged with intense rhythms of life & stress that require high levels of endurance as well as in the elderly who feel lethargic and a constant feeling of lack of endurance.
* The creation & production of compositions (formulas), is a special know-how and a trademark of the company HealthAid.
The notification number to the AEO does not constitute a marketing authorization of the AEO
Adults and over 16 years 2 capsules daily with food.
| | |
| --- | --- |
| Each capsule contains: | |
| Chromium | 50μg |
| Fish Oil Concentrate | 400mg |
| Which provides: | |
| EPA (eicosapentaenoic acid) | 132mg |
| DHA (docosahexaenoic acid) | 88mg |
| Alpha Lipoic Acid | 50mg |
| Coenzyme Q10 (CoQ10) | 30mg |
| Grape Skin Extract | 25mg |
| Garlic Oil (100:1) (equivalent to 125mg of fresh Garlic bulb). | 1.25mg |
| L-Carnitine | 125mg |
| L-Taurine | 125mg |
| Lecithin | 100mg |
| Lycopene | 5mg |
| Citrus Bioflavoniods | 5mg |