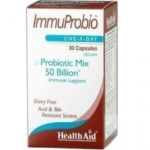 Health Aid Immuprobio 50 Billion 30 herbal capsules
Sale!
Health Aid Immuprobio 50 Billion 30 herbal capsules
Με Φ.Π.Α
-35%
| | |
| --- | --- |
| Weight | 0,30 kg |
| Κατασκευαστής | |
| MPN | 5019781000906 |
Available from 1 to 3 days
1 in stock (can be backordered)
Probiotics 50 billion with Prebiotics (FOS)
There are more than 400 species of friendly bacteria in our body. Each of them is located in a specific part of the body, performing different functions to protect and maintain the health of the body. With age and the contribution of various factors such as smoking, poor & poor diet, stress, drug use, etc., the beneficial bacteria are destroyed, creating acute and chronic health problems. Especially at older ages, the number of probiotics is much smaller, with the result that the symptoms of these problems are more intense and persistent. Due to the complexity of our body, it is required to take probiotics in large quantities, but also variety, ie many different strains. The reason multilevel probiotics have more benefits is because they cover more areas of the body.
HealthAid ImmuProbio is a unique multidisciplinary combination of 10 different probiotic strains (7 species of Lactobacillus & 3 species of Bifidobacterium), along with prebiotics (FOS), in a amount of 50 billion / capsule. Also suitable for seniors with higher requirements.
The notification number to the AEO does not constitute a marketing authorization of the AEO

Adults, 1 capsule daily before breakfast. After opening, store in the refrigerator.
Each capsule contains:

Bifidobacterium bifidum

25 billion

Lactobacillus acidophilus

10 billion

Lactobacillus rhamnosus

4,5 billion

Lactobacillus plantarum

3 billion

Bifidobacterium breve

2 billion

Bifidobacterium longum

2 billion

Lactobacillus casei

2 billion

Lactobacillus lactis

1 billion

Lactobacillus bulgaricus

250 million

Lactobacillus salivarius

250 million

Total cultures

50 billion

Fructooligosaccharides(FOS)

189mg