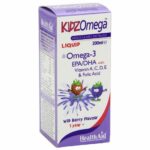 Health Aid Kidz Omega Liquid 200ml
Sale!
Health Aid Kidz Omega Liquid 200ml
Με Φ.Π.Α
-41%
| | |
| --- | --- |
| Weight | 0,40 kg |
| Κατασκευαστής | |
| MPN | 5019781010516 |
Available from 1 to 3 days
3 in stock (can be backordered)
Ω3 fatty acids -concentrated liquid.
Ω3 fatty acids are essential for the developing body and their importance in childhood and adolescence has been shown by numerous studies. That is why their diet is recommended to include foods such as fatty fish (sardines, mackerel, salmon, etc.).
HealthAid's Kidz Omega Liquid is a combination of Ω3 fatty acids (EPA & DHA) that help maintain normal heart, brain and vision function along with vitamin A which helps maintain normal skin and immune system , vitamin D for the normal absorption and utilization of calcium and phosphorus and the maintenance of a healthy state of bones, muscles and teeth, vitamin C for the antioxidant protection of cells and the healthy functioning of the immune system. Folic acid for amino acid synthesis and hematopoiesis and vitamin E to protect Ω3. In addition, the fish oil is mixed with concentrated raspberry juice, rich in anthocyanins, thus giving further antioxidant protection and a pleasant taste.
The notification number to the AEO does not constitute a marketing authorization of the AEO
Children 1-12 years one tablespoon (10ml) once a day.
| | |
| --- | --- |
| Each spoon (10ml) contains: | |
| Vitamin A (1333iu) | 400μg |
| Vitamin D (200iu) | 5μg |
| Vitamin E (9iu) | 6mg |
| Fish Oil concentrate | 600mg |
| Which provides | |
| EPA | 198mg |
| DHA | 132mg |