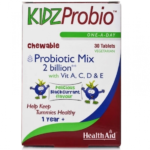 Health Aid – Kidz Probio 30 tablets
Sale!
Health Aid – Kidz Probio 30 tablets
Με Φ.Π.Α
-35%
| | |
| --- | --- |
| Weight | 0,12 kg |
| Κατασκευαστής | |
| MPN | 5019781026081 |
Available from 1 to 3 days
1 in stock (can be backordered)
Probiotics 2 billion with Vitamins A, C, D & E.
Probiotics are friendly bacteria, which are naturally found in our body and act to its advantage in maintaining the intestinal flora, which is responsible for the gastrointestinal and general health of the body. According to research, disruption of the intestinal flora can be caused by various conditions such as taking antibiotics, changing eating habits, changing the environment, etc. The effects of this disorder occur through disorders such as diarrhea or constipation, putting more strain on the body and especially in cases of children where the body is much more sensitive. In addition, the intestinal flora maintained by probiotics, regulates the absorption of most nutrients (vitamins, minerals, trace elements, etc.) required for healthy growth.
HealthAid KidzProbio contains 5 types of probiotic strains, from 2 families (Lactobacillus & Bifidobacterium), of high standard for children, in an amount of 2 billion / tablet, enriched with vitamins A, C, D & E to maintain its normal function. and healthy growth. In chewable tablets with a pleasant gooseberry flavor.
The notification number to the AEO does not constitute a marketing authorization of the AEO
Children 1-3 years, 1 tablet daily, which can be crushed and mixed with juice or food. It must be consumed as soon as it is crushed. For adults & children over 3 years, chew 1 tablet daily before meals. In case of diarrhea, reduce the dose by half.
Each chewable tablet contains:

Probiotic Blend: Lactobacillus acidophilus, Lactobacillus salivarius,
Lactobacillus paracasei, Bifidobacterium lactis & Bifidobacterium bifidum
2billion
Vitamin A (2667 iu)
800μg
Vitamin D (200 iu)
5μg
Vitamin E (18 iu)
12mg
Vitamin C
80mg