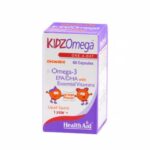 Health Aid KidzOmega 60 chewable tablets
Sale!
Health Aid KidzOmega 60 chewable tablets
Με Φ.Π.Α
-35%
| | |
| --- | --- |
| Weight | 0,30 kg |
| Κατασκευαστής | |
| MPN | 5019781010363 |
Available from 1 to 3 days
1 in stock (can be backordered)
Ω3 fatty acids – chewable capsules.
The diet of children must include fatty fish such as sardines, mackerel, salmon in order to absorb the omega-3 fatty acids that are not produced by the body and contribute to the normal functioning of the heart, vision and brain. However, the supplementation of Ω3 is considered imperative, especially in children who do not have an adequate dietary intake – a very common fact, because most children do not eat fish due to taste.
HealthAid Kidz Omega Chewable are chewable capsules with a pleasant orange flavor that contain in addition to the beneficial Ω3 (EPA & DHA), vitamin A that helps maintain normal skin and immune status, vitamin D for normal and beneficial use. and phosphorus and maintaining healthy bones, muscles and teeth and vitamin E for antioxidant protection.
The notification number to the AEO does not constitute a marketing authorization of the AEO
Children 1-6 years one capsule per day, 6-12 years two capsules per day.
The capsule can be pierced and mixed with liquid or solid food.
| | |
| --- | --- |
| Each capsule contains: | |
| Vitamin A (1333iu) | 400μg |
| Vitamin D (200iu) | 5μg |
| Vitamin E (9iu) | 6mg |
| Fish Oil concentrate | 600mg |
| Which provides | |
| EPA | 198mg |
| DHA | 132mg |