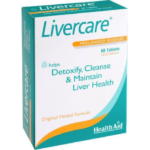 Health Aid Livercare 60 tablets
Sale!
Health Aid Livercare 60 tablets
Με Φ.Π.Α
-40%
| | |
| --- | --- |
| Weight | 0,15 kg |
| Κατασκευαστής | |
| MPN | 5019781041695 |
Available from 1 to 3 days
6 in stock (can be backordered)
Thistle, Artichoke, Turmeric & Lipotropic Agents
The liver is the metabolic center of the body and is responsible for "filtering" any substance that enters it. The modern way of life or possible pathological conditions, aggravate it more, as a result of which it needs special nutritional support to stay healthy.
There are some botanicals that have been studied more in maintaining liver health. Research has shown that ingredients such as sylimarin and cynarin found in Milk Thistle and Artichoke can regulate digestion through bile secretion in combination with other herbs such as Barberry and Dandelion. ) can affect the activity of enzymes associated with detoxification processes. Turmeric is rich in curcumin for antioxidant protection while lipotropic agents such as Methionine, Choline & Inositol are precursors for the production of lecithin to reduce fat in the liver, as Choline contributes to the normal metabolism of lipids. of normal liver function, while increasing the bioavailability of thistle.
HealthAid Livercare * is an advanced formulation with all the above ingredients, for natural liver care, so that it can maintain its healthy function. Suitable for those who consume large amounts of fatty foods & alcohol, for those who take a lot of drugs or gym preparations (steroids), but also to prepare the body before any weight loss diet.
* The creation & production of compositions (formulas), is a special know-how and a trademark of the company HealthAid.
No. Γνωστ.ΕΟΦ: 13211 / 16-02-09
The notification number to the AEO does not constitute a marketing authorization of the AEO
Adults and over 16 years, 2 to 4 tablets daily.