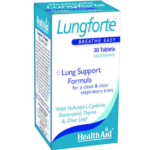 Health Aid Lungforte Breathe Easy 30 tablets – Health Aid
Sale!
Health Aid Lungforte Breathe Easy 30 tablets – Health Aid
Με Φ.Π.Α
-36%
| | |
| --- | --- |
| Weight | 0,30 kg |
| Κατασκευαστής | |
| MPN | 5019781000159 |
Available from 4 to 10 days
Olive Leaves, Thyme, Garlic, Resveratrol & Vitamins
Although we can largely control what we take in from the diet, we can not control what enters our body through respiration. "Thus, our entire respiratory system, from the nasopharynx to the lungs, is burdened daily by various causes, with the risk of its gradually reduced function. Polyphenols from Olive Leaf Extract, mainly represented by Hydroxytyrosol, have been widely studied for their properties in protecting the body as it is a powerful antioxidant for cardiovascular and lung health, while studies have proven its beneficial effects. N-Acetyl-Cysteine ​​(NAC), recommended for years in lung expectoration, Thyme is rich in thymol, a substance that has been widely studied for cleansing the airways. Substances such as Resveratrol, Vitamin C & Quercetin are known for the antioxidant protection of capillaries and Vitamins A & D3, for maintaining the normal function of the mucous membranes and the respiratory tract.
HealthAid Lungforte * is a pioneering immunosuppressant that is suitable for smokers, those with respiratory problems, those who live and work in areas with high levels of pollution, but also those who are prone to respiratory infections and have frequent respiratory infections. and mucus.
* The creation & production of compositions (formulas), is a special know-how and a trademark of the company HealthAid.
Adults, 1 tablet daily. It can be increased to 2 tablets if required.
Each tablet contains:

Vitamin A (1334iu)
400μg
Vitamin D3 200iu
5μg
Vitamin C
125mg
N-Acetyl-L-Cysteine
300mg
Resveratrol
100mg
Quercetin
125mg
Thyme Leaf
50mg
Odourless Garlic Extract (100:1)
(equivalent to 1gr fresh garlic)
10mg
Olive Leaf Extract
(standardized to contain 6mg hydroxytyrosol)
60mg