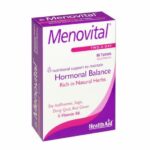 Health Aid Menovital 60 tablets
Sale!
Health Aid Menovital 60 tablets
Με Φ.Π.Α
-30%
| | |
| --- | --- |
| Weight | 0,25 kg |
| Κατασκευαστής | |
| MPN | 5019781000272 |
Available from 1 to 3 days
1 in stock (can be backordered)
Natural combination for menopause
Nature is rich in plants that are traditionally used for their balancing properties in the symptoms that appear before-during & after menopause, such as night sweats, hot flashes, swelling, mood swings. All of these ingredients have hormone-regulating properties and many of them are very good sources of phytoestrogens. Such ingredients are Flaxseed Oil, Ligaria (Agnus Castus), Angelica (Dong Quai), Black Cohosh, Borage Oil (Borage Oil), Soy Isoflavones, Red Clover, etc. Additional micronutrients such as vitamin B6, which helps regulate hormonal activity, and zinc, which help regulate glandular function, have been used successfully in menstrual cycles.
HealthAid Menovital * contains 16 different ingredients that work synergistically on menopausal issues, such as night sweats, vaginal dryness, mood swings and more. The addition of vitamins, minerals and amino acids, make it an ideal dietary supplement for women aged 45-65.
The notification number to the AEO does not constitute a marketing authorization of the AEO
2 tablets daily with food.
Each tablet contains:

Vitamin C
30mg
Vitamin E (7,5iu)
5mg
Vitamin B6
5mg
Iron
7mg
Zinc
7,5mg
L-Tyrosine
25mg
Dong Quai Standardised extract
(contains 1% ligustilide)(equivalent to 500mg dong quai powder)
83,5mg
Flaxseed Oil Powder (contains 10mg alpha linolenic acid)
(provides 16,5mg actual flaxseed oil)
50mg
Starflower (Borage) Oil Powder
(contains 3,5mg gamma linolenic acid)(provides 16,5mg actual borage oil)
50mg
Siberian Ginseng Extract
50mg
Sage Powder
50mg
Soya Isoflavone Extract (contains min 40% isoflavones)
25mg
Red Clover Blossoms
25mg
Liquorice Standardised Extract (contains min 20% glycyrrhizic acid)
12,5mg
Black Cohosh Standardised Extract (contains 0,5mg of deoxyacetin)
10mg
Agnus Castus Standardised Extract (contains min 1% agnusides & aucubins)
(equivalent to 20mg agnus castus powder)
4mg