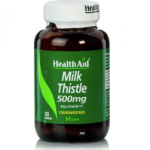 Health Aid Milk Thistle Extract 500mg 30 tablets
Sale!
Health Aid Milk Thistle Extract 500mg 30 tablets
Με Φ.Π.Α
-25%
| | |
| --- | --- |
| Weight | 0,20 kg |
| Κατασκευαστής | |
| MPN | 5019781025503 |
Available from 4 to 10 days
Thistle 500mg in tablets
The liver, in addition to being the "filter" of the body, cooperates with many organs, performing processes vital to the body. It synthesizes bile salts, cholesterol, urea, plasma coagulation factors, T3 to T4, metabolizes hormones, contributes to the activation of vitamin D, produces glucose from glycogen, destroys aging red blood cells, etc. For this reason, it should be kept constantly healthy, contributing in turn to the overall health of the body.
Thistle (Milk Thistle) is one of the most studied herbs for liver health as a powerful antioxidant with detoxifying properties, while also contributing to proper digestion. The flavonoid sylimarin is its active ingredient, to which it owes its hepatoprotective properties.
No. Γνωστ.ΕΟΦ: 61210 / 06-07-17
The notification number to the AEO does not constitute a marketing authorization of the AEO