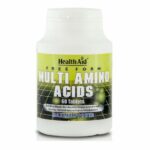 Health Aid Multi Amino Acids 60 tablets
Sale!
Health Aid Multi Amino Acids 60 tablets
Με Φ.Π.Α
-38%
| | |
| --- | --- |
| Weight | 0,40 kg |
| Κατασκευαστής | |
| MPN | 5019781022410 |
Available from 4 to 10 days
Polyamino acids
Amino acids are organic building blocks of proteins. Of the 20 amino acids involved in the production of proteins, 8 can not be produced by the human body and are necessarily called. But in addition to these 20, there are other amino acids whose biological role is related to the regulation of metabolism, energy production, increasing endurance levels, fat management and various functions of the body (neurological, vascular, etc.). a.)
HealthAid Multi Amino Acids contain a total of 22 amino acids, essential and non-essential, in their natural form (free form) for better absorption and utilization by the body.
Adults and children over 16 years, 3-6 tablets daily on an empty stomach.
| | |
| --- | --- |
| Each tablet contains: | |
| Alanine | 70mg |
| Arginine | 63mg |
| Aspartic acid | 46mg |
| L-Carnitine | 4mg |
| L-Cysteine | 4mg |
| L-Citralline | 3mg |
| Glycine | 167mg |
| Glutamic acid | 80mg |
| Hydroxyproline | 97mg |
| Histidine | 6mg |
| Hydroxylysine | 7mg |
| Isoleucine | 12mg |
| Lysine | 32mg |
| Leucine | 23mg |
| Methionine | 6mg |
| L-Ornithine | 4mg |
| Phenylalanine | 16mg |
| Proline | 110mg |
| Serine | 28mg |
| Threonine | 15mg |
| Tyrosine | 2mg |
| Valine | 18mg |