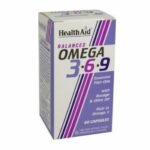 Health Aid Omega 3-6-9 60 capsules
Sale!
Health Aid Omega 3-6-9 60 capsules
Με Φ.Π.Α
-35%
| | |
| --- | --- |
| Weight | 0,30 kg |
| Κατασκευαστής | |
| MPN | 5019781000807 |
Available from 4 to 10 days
Fish oils with Borague & Olive Oil
Omega 3, Omega 6 fats are not produced by the human body and are taken only from the diet. Interestingly, each has many health benefits and it is important to have the body in the right balance.
Omega-3 fatty acids rich in EPA & DHA, play an important role in the condition of the heart, brain and vision.
Omega-6 fatty acids are essential polyunsaturated fatty acids that help regulate prostaglandins in the body, thus contributing to the balance of hormones.
Omega-9 is rich in Oleic Acid which belongs to unsaturated fats. Replacing saturated fats with unsaturated fats in the diet, helps maintain normal blood cholesterol levels.
HealthAid Omega 3-6-9 is a balanced combination of all three types of Omega (Ω3 from fish oils, Ω6 from Boragut oil & Ω9 from Olive Oil) of high purity, in an ideal ratio.
The notification number to the AEO does not constitute a marketing authorization of the AEO
Adults & over 12 years, 1 to 3 capsules daily with food.
| | |
| --- | --- |
| Each capsule contains: | |
| Vitamin E (13iu) | 3mg |
| Omega 3,6,9 blend (non GM fish oil, borage oil, olive oil) | 1155mg |
| Total Omega 3 (from fish oil) | 333,33mg |
| EPA | 157mg |
| DHA | 105mg |
| Total Omega 6 (from borage oil) | 323.33mg |
| Linoleic Acid | 200mg |
| Gamma Linolenic Acid (GLA) | 123.33mg |
| Total Omega 9 (from olive oil) | 150mg |
| Oleic Acid | 150mg |