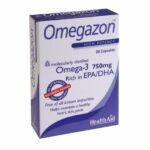 Health Aid Omegazon 750mg 30 capsules
Sale!
Health Aid Omegazon 750mg 30 capsules
Με Φ.Π.Α
-35%
| | |
| --- | --- |
| Weight | 0,15 kg |
| Κατασκευαστής | |
| MPN | 5019781000883 |
Available from 4 to 10 days
Essential Ω3 fatty acids.
Omega-3
fatty acids (EPA & DHA 750mg), known as "essential", as the body
can not produce them, but can get them from their rich source, such as
Norwegian fish oils. They play a regulatory role in the body's cells, as they
are precursors of many biological molecules and contribute to the normal
functioning of the heart, creating a healthy circulation with low levels of
cholesterol and triglycerides. In addition, Ω3 contributes to the normal functioning of the
brain and vision.
HealthAid
Omegazon is a high purity, rich in Ω3 fatty acids, which has undergone double molecular distillation, free
of dioxins, impurities or heavy metals, to deliver a full concentration of
beneficial fatty acids EPA / DHA in their free & pure form . Unique
Anti-Reflux composition, which leaves no fish aftertaste (no after taste).
No. Γνωστ.ΕΟΦ: 63998 / 12-11-04
The
notification number to the AEO does not constitute a marketing authorization of
the AEO
Children
over 6 years, 1 capsule daily. Adults and children over 12 years, 1 to 3 capsules
daily.
Each
capsule contains
Fish Oil concentrate

1250mg

Of
which:

EPA (Eicosapentaeonic acid)

425mg

DHA (Docosahexaeonic acid)

325mg

Total Omega-3
polyunsaturates

750mg

Vitamin E (d-alpha tocopherol)

7.5mg