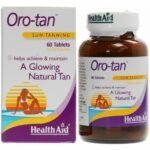 HEALTH AID ORO-TAN Nutrition Supplement for Glowing Natural Tan 60Tabs
Sale!
HEALTH AID ORO-TAN Nutrition Supplement for Glowing Natural Tan 60Tabs
Με Φ.Π.Α
-39%
| | |
| --- | --- |
| Weight | 0,25 kg |
| Κατασκευαστής | |
| MPN | 5019781016686 |
Available from 1 to 3 days
2 in stock (can be backordered)
Amino Acids – Coenzyme Q10
Food supplements
Oro-tan Nutritional Supplement for Natural & Glowing Tan 60 Tablets
When our skin is exposed to sunlight, it produces a pigment known as melanin, which darkens the skin, protecting it from ultraviolet radiation. Tyrosine is an amino acid, which is an essential ingredient for the production of melanin. Carrot is rich in carotenoids and especially in Beta Carotene, which contains an orange pigment for the production of melanin, while also offering antioxidant protection against free radicals produced by sunlight. Copper participates in the synthesis of collagen and elastin, maintaining the elasticity of the skin, while stimulating the production of SOD, a very powerful antioxidant. PABA (Para-amino-benzoic acid) as a B-complex vitamin helps to protect the skin, while its lack is due to the graying of the hair.
HealthAid Oro-tan * is a special combination of the above ingredients, along with grape seed extract for extra antioxidant protection of the eyes from UV rays. Suitable for those who are exposed to a lot of sun or during the holidays and are prone to sunburn, "peeling" of the skin, colored spots (freckles, olives, freckles), but also to maintain the tan after the holidays .
* The creation & production of compositions (formulas), is a special know-how and a trademark of HealthAid.
No. Γνωστ.ΕΟΦ: 4423 / 22-01-16
The notification number to the AEO does not constitute a marketing authorization of the AEO
Instructions for use:

Adults and children over 16 years, 1-3 tablets daily with food. It is recommended to use it at least one month before the holidays
Note:
Dietary supplements are not a substitute for a balanced diet. Keep in a cool and dry place. Keep out of reach of children, do not exceed the recommended daily dose. Consult your doctor if you are pregnant, breast-feeding, taking medication.