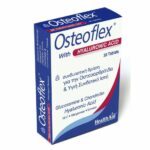 Health Aid Osteoflex Hyaluronic 30 tablets
Sale!
Health Aid Osteoflex Hyaluronic 30 tablets
Με Φ.Π.Α
-39%
| | |
| --- | --- |
| Weight | 0,10 kg |
| Κατασκευαστής | |
| MPN | 5019781026012 |
Available from 1 to 3 days
2 in stock (can be backordered)
Glucosamine, Chondroitin & Hyaluronic Acid for Joint Hydration
Hyaluronic acid is one of the most important components of tissues and cartilage. It is an extremely hydrophilic molecule, as it can hold large amounts of water. This property is very important for maintaining the hydration and lubrication of the joints, while at the same time it creates the substrate for the production of collagen.
Osteoflex with Hyaluronic Acid, is the well-known Osteoflex recipe, with glucosamine, chondroitin, vitamin C, turmeric & manganese, enriched with 55mg of hyaluronic acid for a more complete action in supporting the joints. In addition, Health Aid's special technology in prolonged release tablets allows the prolonged and better absorption of all ingredients. Suitable for women, men and the elderly, who want to increase range of motion, athletes and athletes in intensive training rhythms and the elderly as enhanced support.
The notification number to the AEO does not constitute a marketing authorization of the AEO
Adults and over 12 years, 1 to 2 tablets a day with food.