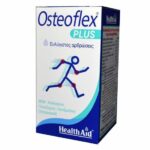 Health Aid Osteoflex Plus 60 tablets
Sale!
Health Aid Osteoflex Plus 60 tablets
Με Φ.Π.Α
-35%
| | |
| --- | --- |
| Weight | 0,30 kg |
| Κατασκευαστής | |
Available from 1 to 3 days
14 in stock (can be backordered)
Glucosamine, Chondroitin, Collagen, MSM for relaxed joints
Due to the normal wear and tear (age), injuries, osteoarthritis and related diseases of the musculoskeletal system, an unpleasant condition is created characterized by a lack of agility & elasticity of joints, tendons, ligaments & connective tissues with the main symptom being pain. Glucosamine & Chondroitin are key ingredients in supporting joints and connective tissues as they work synergistically but with a different mechanism. Turmeric: Turmeric-rich root, a powerful antioxidant fighting the body's free radicals. Green lipped mussel: It is a superfood to support the joints, as it is rich in polysaccharides, such as glucosamine & chondroitin and provides a wide range of vitamins, minerals & enzymes, such as betaine, which are natural. for the health of connective tissues. Organic Sulfur (MSM): Essential for the production and metabolism of proteins, such as collagen and elastin, for the proper functioning of cartilage and the maintenance of healthy joints and bones. Hydrolyzed Collagen Type II: One of the main components of synovial fluid.
HealthAid Osteoflex Plus * in slow-release tablets for continuous action, contributing to the improvement of the quality of life, through the joy of movement.
* The creation & production of compositions (formulas), is a special know-how and a trademark of the company HealthAid.
1 to 3 tablets daily with food.