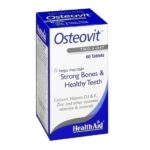 Health Aid Osteovit 60 tablets
Sale!
Health Aid Osteovit 60 tablets
Με Φ.Π.Α
-35%
| | |
| --- | --- |
| Weight | 0,25 kg |
| Κατασκευαστής | |
| MPN | 5019781016303 |
Available from 4 to 10 days
Vitamins and minerals for healthy bones
Bone mass refers to the density of bone, which is composed mainly of minerals such as calcium and other molecules. The higher the density, the stronger the bones. By the age of 30-35, bone mass increases, but then gradually decreases, until a large loss known as osteoporosis occurs. The main ingredient for nourishing and maintaining bone health is Calcium. Additional micronutrients with a positive effect on bone health, as they contribute to the normal absorption of calcium by the body are vitamins D3 and K.
HealthAid Osteovit * is a special composition with Calcium, vitamins D3, K, A, C & B complex along with the minerals Manganese, Iron, Copper and Zinc, which act synergistically to maintain the rest of the body's normal functions. Recommended for women with osteopenia and osteoporosis, especially menopausal women and the elderly, to strengthen their musculoskeletal system. Suitable for athletes with musculoskeletal injuries.
* The creation & production of compositions (formulas), is a special know-how and a trademark of the company HealthAid.
No. Γνωστ.ΕΟΦ: 61212 / 06-07-17
The notification number to the AEO does not constitute a marketing authorization of the AEO
Adults, 2 tablets a day after meals.
Each tablet contains :

Vitamin A (1250 iu)
375μg
Folic Acid
150 μg
Vitamin D (50 iu)
1,25μg
Vitamin K
35μg
Vitamin C
15 mg
Biotin
15 μg
Vitamin Β1 (Thiamin HC)
0,6mg
Calcium
400mg
Vitamin Β2 (Riboflavin)
0,8mg
Iron
6 mg
Niacin
9mg
Zinc
2,5mg
Pantothenic Acid
2,5mg
Copper
0,5mg
Vitamin B6 (Pyridoxine HCl)
2mg
Manganese
1mg
Vitamin B12 (Cynocobalamin)
1μg