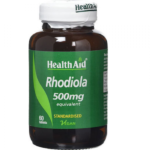 Health Aid Rhodiola 500 mg 60 tablets
Sale!
Health Aid Rhodiola 500 mg 60 tablets
Με Φ.Π.Α
-35%
| | |
| --- | --- |
| Weight | 0,30 kg |
| Κατασκευαστής | |
| MPN | 5019781025831 |
Available from 4 to 10 days
Rodiola 500mg
Scandinavian herb, also known as "golden root", with multiple benefits for the body. In addition to its strong antioxidant action, it also has adaptogenic properties, ie it helps the body to adapt to conditions of increased demands, intensity and stress. Studies show that it regulates the mobility of neurotransmitters in the brain, having both stimulating and calming effects. It contains a number of active ingredients, such as flavonoids, organic acids and phenolic glycosides, with the most active substances being rosavin and salidrozin, which are found only in the Rhodiola rosea variety. Thanks to them, it helps to deal with physical and mental stress, the feeling of fatigue, with consequent benefits for mood, endurance, mental clarity and self-concentration.
HealthAid Rhodiola is made from the best quality, organically grown, titrated Rhodiola rosea root extract, for maximum results. Suitable for athletes, for those who suffer from chronic fatigue and for those who want to maintain their physical and mental balance on a daily basis.
The notification number to the AEO does not constitute a marketing authorization of the AEO
Adults and children over 12 years, 1-2 tablets daily before meals