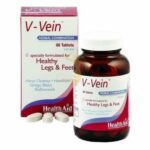 Health Aid V-Vein 60 tablets
Sale!
Health Aid V-Vein 60 tablets
Με Φ.Π.Α
-35%
| | |
| --- | --- |
| Weight | 0,30 kg |
| Κατασκευαστής | |
| MPN | 5019781015856 |
Available from 1 to 3 days
2 in stock (can be backordered)
Herbs, bioflavonoids & vitamins for healthy circulatory system
Many times poor blood circulation becomes more apparent externally to the extremities of the body such as the legs. More specifically, the feet begin to swell and acquire a feeling of pain, heaviness and burning. In more advanced conditions, the surface of the skin shows signs of varicose veins, varicose veins and varicose veins, a sign that the blood vessels are not in good condition.
Health Aid V-Vein is a complete unique composition of citrus bioflavonoids, ginger, cayenne pepper, pineapple bromelain, bilberry, vitamin C and herbal blend of grape seed extracts and Ginkgo Biloba, rich in polyphenols, polyphenols, polyphenols. Suitable for women and men, for those who are in constant standing and immobility, for those who are exposed to high temperatures and those who show frequent fluid retention and swelling in the legs, especially during the summer months.
The notification number to the AEO does not constitute a marketing authorization of the AEO
Adults, one tablet a day with food.
| | |
| --- | --- |
| Each tablet contains: | |
| Vitamin C | 80mg |
| Citrus Bioflavonoids | 300mg |
| Grape Seed PE (standardised for a min of 95% polyphenols and 40% proanthocyanidins) | 1250mg |
| Ginkgo Biloba PE (standardised for a min of 24% flavones and 6% lactones) | 500mg |
| Ginger PE (standardised to min 5% gingerols) | 300mg |
| Bilberry Fruit PE | 250mg |
| Bromelain 1200GDU/GM | 100mg |
| Cayenne Fruit PE | 60mg |