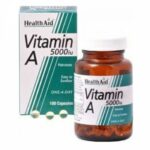 Health Aid Vitamin A 5000iu 100 capsules
Sale!
Health Aid Vitamin A 5000iu 100 capsules
Με Φ.Π.Α
-38%
| | |
| --- | --- |
| Weight | 0,20 kg |
| Κατασκευαστής | |
| MPN | 5019781000012 |
Available from 1 to 3 days
2 in stock (can be backordered)
Vitamin A 5000iu
Vitamin A (Retinol) belongs to the category of fat-soluble vitamins. It is beneficial for the eyes, in cases of dry eyes, helps maintain the condition of the mucous membranes & the normal functioning of the immune system, helping the body to fight respiratory infections. At the same time, it promotes the maintenance of skin health and contributes to the normal metabolism of iron.
HealthAid Vitamin A is in the form of palmitate (Palmitate) in an oily environment and with vitamin D in its composition, it is absorbed and assimilated faster by the body, especially by people with digestive problems and the elderly.
The notification number to the AEO does not constitute a marketing authorization of the AEO

Adults and children over 12 years, 1 capsule daily with food. Adults up to 2 capsules daily if required.