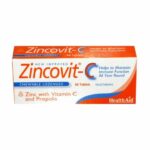 Health Aid Zincovit C 60 tablets
Sale!
Health Aid Zincovit C 60 tablets
Με Φ.Π.Α
-39%
| | |
| --- | --- |
| Weight | 0,10 kg |
| Κατασκευαστής | |
| MPN | 5019781000838 |
Available from 1 to 3 days
4 in stock (can be backordered)
Zinc – Vitamin C & Propolis – Chewable
Easy to use combination, which offers on a daily basis all the beneficial properties of Zinc, Vitamin C and Propolis, in a particularly delicious chewable lozenge, to keep the body healthy & active all year round. Zinc contributes to the normal functioning of the immune system and acts faster in the form of a lozenge, as it is absorbed by the receptors under the tongue. Vitamin C as a water soluble, dissolves rapidly in the form of a lozenge with more immediate results in antioxidant protection and strengthening of the body's cells. Propolis is a resinous substance, known for its protective properties, especially for the health of the nasopharynx.
HealthAid Zincovit-C is recommended for children all year round. Easy way to take at any time of the day and for those who have problems swallowing a tablet.
Children over 3 years old can suck or chew 1 tablet daily.
Over 9 years can be increased to 2 tablets.
Adults up to 4 tablets daily in exacerbation of symptoms.
| | |
| --- | --- |
| Each tablet contains: | |
| Vitamin C | 150mg |
| Zinc | 4mg |
| Propolis Extract | 15mg |