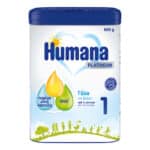 Humana 1 Infant Milk up to the 6th month 800gr
Humana 1 Infant Milk up to the 6th month 800gr
34,45 € Με Φ.Π.Α
Available from 4 to 10 days
Humana 1 Infant Milk up to 6 months 800gr (NEO – MY PACK) –
IN NEW PACKAGING FOR BETTER PRESERVATION AFTER OPENING IT
https://www.humana-baby.com/mypack/
Why Humana Infant Milk 1
Humana 1 infant milk is given from the 1st bottle and for the entire duration of bottle feeding:
as an exclusive food if you are not breastfeeding
as a supplement, when breast milk is not sufficient
in combination with breastfeeding
in combination with any other infant formula
Properties
adapted quantitatively and qualitatively to the proteins of breast milk
easily digestible and easily absorbed due to its 100% lactose content (the main carbohydrate in breast milk)
with ω3 and ω6 essential fatty acids from 100% plant sources
enriched with excellent quality long-chain fatty acids (LCPUFA), nucleotides and prebiotic fibers for better development of the central nervous system, gastrointestinal tract and strengthening of the immune system.
Important note:
Breastfeeding is best for your child.
If you want to use a baby food from early infancy, consult your pediatrician or clinic first.
Please observe the hints and instructions on the packaging.
About Humana
Humana is the leading company of special foods, cow's milk-free foods, baby water and hypoallergenic HA baby creams on the German market.
Humana GmbH belongs to the group of companies Humana Union Galaktos, a dairy cooperative with over 6,000 suppliers.
Humana launched in 1950 on the German market the first baby food that was similar to mother's milk, for children who do not breastfeed or cannot breastfeed sufficiently.
Today, it is one of the leading milk processing companies in Europe and produces in its many factories a wide variety of high quality products, such as e.g. fresh milk, butter, desserts, ice creams and cheeses.
Since then we have developed, based on strict ethical, legal and ecological principles, modern and high quality baby food products.