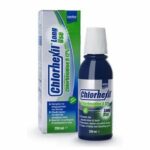 Intermed Chlorhexil Mouthwash Long Use 0.12% 250ml
Sale!
Intermed Chlorhexil Mouthwash Long Use 0.12% 250ml
Με Φ.Π.Α
-34%
| | |
| --- | --- |
| Weight | 0,35 kg |
| Κατασκευαστής | |
| MPN | 5205152008613 |
Available from 1 to 3 days
4 in stock (can be backordered)
Intermed – Chlorhexidine Oral Solution 0.12% 250ml
INTERMED CHLORHEXIL LONG USE 0.12% 250ML
Antimicrobial protection, relief and care
Chlorhexil 0.12% Mouthwash – Long Use with chlorhexidine 0.12%, is designed to control and neutralize microorganisms in the oropharyngeal cavity, effectively treat gingivitis and reduce bleeding.
Ideal for long-term use.
It contains a special agent that prevents the pigments from sticking to the teeth so that their color does not change due to chlorhexidine, during the treatment.
INDICATIONS
Treatment of gingivitis
After cleansing where there is looseness in the gums or bleeding gums
Control and reduction of microbial plaque
Without the presence of alcohol.
Instructions for use
Rinse your mouth for 30-60sec with 10ml of undiluted CHLORHEXIL 0.12% Long Use solution, 2 times a day.
If use is required for more than 10-15 days, consult your dentist.
Maximum duration of use: up to 2 months.