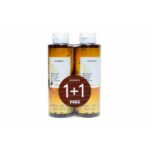 KORRES Lemon Shower Gel with Organic Althea Extract 2 x 250ml
Sale!
KORRES Lemon Shower Gel with Organic Althea Extract 2 x 250ml
Με Φ.Π.Α
-25%
| | |
| --- | --- |
| Weight | 0,60 kg |
| Κατασκευαστής | |
| MPN | 5203069046803 |
Available from 1 to 3 days
37 in stock
Shower gel with moisturizing action, ideal for daily use. Wheat proteins form a protective film on the skin, maintaining constant hydration levels.
Wheat Protein:
Wheat [Triticum vulgare], as evidenced by numerous archaeological finds up to twelve thousand years old, is the second [with barley first] plant cultivated by man. The enormous nutritional value it has today and the ease with which it thrives in a wide variety of soils and climates, have resulted in its cultivation occupying a larger area worldwide than any other plant. Wheat proteins retain moisture inside the skin.
Aloe:
Aloe vera is a succulent plant native to the African continent that is now cultivated in many countries around the world for its valuable fleshy leaves. Its use in medicine is very ancient, as it is already described in Egyptian papyri of 1600 BC, while its healing, laxative and other properties are accurately described by the famous pharmacologist of the ancient world, Dioscorides. With external application, Aloe heals wounds and burns, stimulates cell regeneration and has a significant moisturizing, emollient and soothing effect.