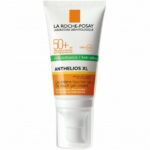 La Roche Posay Anthelios XL Anti-Shine Dry Touch Gel-Cream SPF50, Sun Gel-Face Cream for oily skin 50ml
La Roche Posay Anthelios XL Anti-Shine Dry Touch Gel-Cream SPF50, Sun Gel-Face Cream for oily skin 50ml
21,00 € Με Φ.Π.Α
| | |
| --- | --- |
| Weight | 0,08 kg |
| Κατασκευαστής | |
| MPN | 3337875546409 |
Available from 1 to 3 days
1 in stock (can be backordered)
La Roche Posay Anthelios XL Anti-Shine Dry Touch Gel-Cream SPF50, Sunscreen Gel-Face Cream 50ml
Very high protection for the face from UVB / UVA (even long UVA).
Tube 50ml.
PROPERTIES
Sensitive to allergic skin to the sun, known as photoallergy.
For conditions of intense sunshine.
Sun protection (pregnancy, photosensitivity).
Very high broad spectrum protection from UVB / UVA (even long UVA).
[XL-PROTECT ™]: Wide spectrum technology Protection against UVA / UVB radiation (UVA protection index: PDD 21, UVB protection index: SPF50 +) and damage due to air pollution Prevention of photoaging, also caused by infrared IR radiation.
Dry touch texture: Double action against the gloss, immediate absorption, excellent dry result, without white traces.
Ideal for combination-oily skin.
BENEFITS
The skin is protected from the sun and from the damage caused by UV radiation.
Extremely dry result. No white traces. Matte effect.
IMPLEMENTATION TIPS
Excessive sun exposure is dangerous. Keep babies and young children away from direct sunlight. Do not sit in the sun for a long time, even with sunscreen, as it does not provide you with 100% protection. Apply sunscreen just before sun exposure. Frequently renew the application in a rich amount to maintain protection, especially after swimming, sweating and wiping with a towel.
External use only.