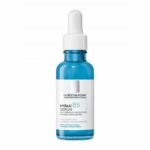 La Roche Posay Hyalu B5 Anti-Wrinkle and Repair Serum – 30ml
Sale!
La Roche Posay Hyalu B5 Anti-Wrinkle and Repair Serum – 30ml
Με Φ.Π.Α
-25%
| | |
| --- | --- |
| Weight | 0,10 kg |
| Κατασκευαστής | |
| MPN | 3337875583626 |
Available from 1 to 3 days
5 in stock (can be backordered)
Anti-wrinkle and restorative concentrate with Hyaluronic acid, Vitamin B5 & madecassoside. It "fills" the skin
Cool, refreshing gel texture. Apply morning and night on face and neck. All skin types. Tested for nickel.
SKIN TYPE: For all types
FACIAL NEED: ANTIGYRANCE
Wrinkles, lack of volume and elasticity, dull and tired face.
Unique, refreshing composition with 2 types of pure Hyaluronic Acid, Vitamin B5 and Madecassoside.
Repairs and 'fills' the skin, restoring the skin's moisturizing barrier and activating cell regeneration.
PRODUCT EFFICIENCY The skin immediately regains its elasticity, softness and healthy appearance.
Wrinkles and fine lines are reduced. The skin 'fills' and acquires a youthful appearance.
TEST RESULTS *
At the end of the day 71% of the wrinkles on the face look reduced
After 4 weeks of use 75% of the skin is fresher 69% the skin is rejuvenated 75% the face looks more relaxed 75% the overall appearance of the face improves Efficiency after cosmetic surgery ** 89% The recently irritated skin 'fills' and acquires a volume of 77% Reduces the feeling of tightness of recently irritated skin
* Self-assessment study with questionnaires, N = 52 Caucasian women, 40/65 years old, all skin types, 100% state that they have sensitive skin, 5 points on the scale ** Panel: N = 30
Caucasian women and men who have undergone dermatological, cosmetic surgeries in the form of wrinkles (surface peeling or injections – around 50/50).
Application for 28 days,
2 times / day (morning and evening) on ​​the face, including the area around the eyes and neck for 4 weeks