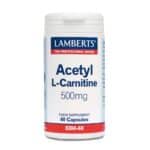 Lamberts Acetyl L-Carnitine 500mg, Carnitine Supplement to Boost Metabolism, 60 Capsules
Sale!
Lamberts Acetyl L-Carnitine 500mg, Carnitine Supplement to Boost Metabolism, 60 Capsules
Με Φ.Π.Α
| | |
| --- | --- |
| Weight | 0,2 kg |
| Κατασκευαστής | |
Available from 4 to 10 days
Lamberts Acetyl L-Carnitine 500mg is manufactured in the UK in facilities that operate according to strict GMP (Good Manufacturing Practice) pharmaceutical standards. It is suitable for vegetarians and consists of a dose of one capsule per day. It is the acetylated form of L-carnitine and is characterized by increased absorption and bioavailability. In this form, the majority of clinical studies concerning Carnitine have been conducted.
Carnitine is an important amino acid found in foods of animal origin, while in our body it is synthesized from lysine in the presence of vitamin C. Carnitine's biological role consists in transporting long-chain fatty acids to the mitochondria of cells, where they are oxidized for energy produce. In addition, Carnitine participates in the removal of toxic metabolic products from the mitochondria. For these reasons L-carnitine, and especially acetyl L-carnitine, is widely recommended by health professionals.
Each capsule delivers: Acetyl-L-Carnitine 500mg
Ingredients used in the capsule: Acetyl-L-Carnitine, Capsule Shell (Hydroxypropyl Methylcellulose), Magnesium Stearate, Silicon Dioxide, White Rice Powder.
The dextrose and sucrose excipients contained in the product weigh less than 1/50 of a teaspoon (yielding less than 1/2 a calorie).
Assimilation time: Less than 30 minutes. Suitable for vegetarians.
Dosage: 1 capsule daily, with juice or water rather than milk. Amino acids are best absorbed when taken half an hour before eating or going to bed.
Storage: Store in a cool and dry environment and protect from light.
Allergies: None (See Chapter "Allergies" at the end of the technical list)
Precautions: This product is not recommended for children and pregnant or lactating women.