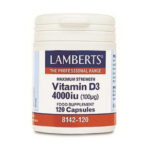 Lamberts Vitamin D3 4000iu, Bone, Tooth Health, Immune (100μg) 120caps
Sale!
Lamberts Vitamin D3 4000iu, Bone, Tooth Health, Immune (100μg) 120caps
Με Φ.Π.Α
-10%
| | |
| --- | --- |
| Weight | 0,12 kg |
| Κατασκευαστής | |
| MPN | 5055148410544 |
Available from 4 to 10 days
Natural form
Presentation
Capsule, suitable for vegetarians
Each capsule yields:
Vitamin D (4000iu) 100μg (cholecalciferol)
encapsulation with:
Sunflower seed oil, Capsule Shell (Glycerin Modified Corn Starch, Gelling agent: Carrageenan) Vitamin D3
Suitable for vegetarians
Use:
We are pleased to present the new product of Lamberts Vitamin D 4000iu. Many modern studies concerning vitamin D, give special importance to the intake of vitamin D by the general population. About 60% of the UK population is Vitamin D deficient and these low levels are associated with serious health problems later in life.
Vitamin D is a fat-soluble vitamin that can be obtained through the diet or synthesized by the body due to skin exposure to sunlight. People who think they are not exposed enough to the sun usually choose to take a Vitamin D supplement.
Vitamin D is essential for bone and tooth health as well as for maintaining a healthy immune system.
The naturally occurring vitamin D3 of this product is of the same chemical form as that which is normally synthesized in the body after exposure of the skin to sunlight.
Each capsule provides 4000iu of vitamin D.
• Essential for bone and tooth health
• Important for the health of the immune system
• 4000iu of vitamin D per tablet is provided
Dosage:
1 capsule a day
Precautions:
None known for the recommended dosage.
Safekeeping:
Store in a cool and dry environment and protect from light.
The use of vitamin D 4000iu Lamberts is recommended on the recommendation of a healthcare professional.