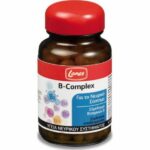 Lanes B-Complex Gradual Release 60 tablets
Sale!
Lanes B-Complex Gradual Release 60 tablets
Με Φ.Π.Α
-25%
| | |
| --- | --- |
| Weight | 0,15 kg |
| Κατασκευαστής | |
| MPN | 5201314047599 |
Available from 1 to 3 days
2 in stock (can be backordered)
LANES B-COMPLEX 60 TABS
For a healthy nervous system
Dietary Supplements.
Time released.
Lanes B-Complex contains a combination of all the valuable B-complex vitamins which contribute to the normal functioning of the nervous system & the normal psychological function while also helping concentration. B vitamins facilitate the metabolism of food, releasing energy and are particularly beneficial for the good health of the skin, nails and hair.
More specifically:
Vitamin B5 contributes to normal mental performance.
• Vitamins B2, B3 & biotin help maintain the skin while biotin is valuable for hair.
• Choline contributes to the normal metabolism of lipids & homocysteine ​​as well as the maintenance of liver function.
• Folic acid helps in the development of maternal tissue during pregnancy & the normal synthesis of amino acids. Decreased levels of B vitamins can affect brain function, causing inability to concentrate, irritability and mood swings.
Advantages of Use
It helps in the normal functioning of the nervous system and the normal psychological function.
Recommended at
People who do not eat foods of animal origin (vegans) are likely to be deficient in vitamin B12, the elderly, people who have had bariatric surgery or any other stomach surgery e.g. ulcer.
Use:
1 tablet per day
It is recommended to take the preparation in the morning after breakfast.