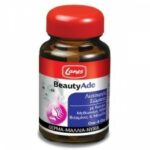 Lanes BeautyAde for Healthy Hair, Nails and Skin 30tabs
Sale!
Lanes BeautyAde for Healthy Hair, Nails and Skin 30tabs
Με Φ.Π.Α
-30%
| | |
| --- | --- |
| Weight | 0,25 kg |
| Κατασκευαστής | |
| MPN | 5201314068488 |
Available from 1 to 3 days
6 in stock
Dietary supplement with amino acids (L-Cystine, L-Methionine), Vitamins B, C, E, MSM, millet extract and valuable trace elements. Time released for healthy hair, nails and skin
MAIN FEATURES & BENEFITS
BeautyAde nutritional supplement contains a combination of important vitamins, minerals and trace elements with the sulfur amino acids L-methionine and L-cystine, structural elements of keratin, which help strengthen hair and nails and give beauty and vitality.
L-methionine is one of the 8 essential amino acids, structural components of proteins. As the body can not synthesize methionine, adequate intake is required through the diet or as a supplement as it helps fight hair loss, strengthening the hair structure while contributing to the good condition of the hair. At the same time, methionine strengthens the nails.
L-cystine is a key component of 90% keratin, and is a building block of hair and nails. Cystine along with methionine are the essential amino acids for wound healing and epithelial tissue formation.
Zinc helps maintain the normal condition of hair, skin and nails, and copper helps normal hair color. In addition, the trace element selenium, contributes to the normal condition of hair and nails.
Vitamin C is essential for the formation of collagen and together with Biotin they contribute to the good condition of hair & skin.
Vitamin B6 helps regulate hormonal activity.
In addition, B vitamins (B3, B5, B6 & Biotin) and copper contribute to the proper functioning of the nervous system that is essential for good health. Vitamin E thanks to its antioxidant properties is valuable for the beauty and health of the body, as it helps protect cells from oxidative stress.
The studied composition is addressed to people who are interested in a dietary supplement that will take care of their beauty "from the inside" to improve the good appearance of the skin, hair and nails, elements that mirror the good health of the body.
USE
Take 1 tablet daily with a glass of water at the main meal.
Does not contain: Sugar, preservatives.
Pregnant / Breastfeeding: Consult your doctor.
Diabetics: Does not contain sugar. Suitable for diabetics.
Vegetarians: Suitable for vegetarians.
Special Precautions: No special precautions.